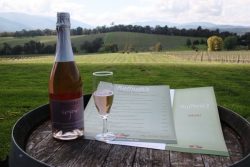 By Wendy Williamson
It is always the right season to sample the spectacular beauty of the Yarra Valley, but spring brings something special to this wine lovers' paradise just one hour's drive from the Melbourne CBD.
Anyone looking for a cellar door to taste wine that is celebrated throughout the world will be spoilt for choice. Drive the highway, wander the back roads – there are vineyards as far as the eye can see, interspersed with orchards pretty with spring blossom.
Drink in the beauty, then take your pick of places to pause. The Valley boasts award-winning wineries galore, most with a cellar door where you can enjoy an informed friendly tasting.
While the region is famous for its chardonnay, sauvignon blanc and pinot noir, there's also a stunning selection of sparkling wines and full-bodied reds to enjoy. What you can be sure of is intensity of flavour and superb quality.
At many of the wineries you will be able to order a platter of the freshest local produce to graze on while you sip your wine.
Some wineries feature splendid restaurants, where you can dine in comfort, perhaps beside a blazing fire if there is still a nip of winter in the air.
In many cases you will find much to admire in the buildings themselves. The wineries range from gorgeous old buildings in the Tuscan or French provincial style to stunningly modern architectural creations, all soaring ceilings and sharp angles.
Whichever cellar door you choose, you can be sure of one thing – a backdrop of the gorgeous Yarra Valley. It's an ideal location in which to relax, taste some exquisite local produce and soak up the best that nature – and a talented vintner or two – has to offer.