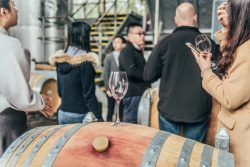 By Derek Schlennstedt
This winter, discover a region where excellent food and exceptional wine are the norm and not the exception.
Choose from over 60 winery cellar doors where you can see and taste why the Yarra Valley sets the standard for cool climate wines.
Breathtakingly beautiful and ringed by mountains, the Yarra Valley provides picturesque views while enjoying award-winning wines.
Whatever your taste or style, the Yarra Ranges provides many wines mixed with unique architectural statements.
From vintage brick cellars, hidden among the vines, to elegant and sophisticated wineries, each exclusive location reflects the distinctive flair of vineyards in the Yarra Ranges.
Linger over lunch and match wines with superb meals that are created by talented chefs who create masterpieces from the abundant local produce picked straight from the garden.
The cool temperatures of the Yarra Valley and Dandenong Ranges are perfect for creating classic chardonnay, sparkling and pinot noir wines that the region has become famous for.
With some real discoveries to be made, the Yarra Ranges rewards curious visitors who wander down the back roads and byways, where hidden gems are often waiting.
No matter your preference, there is something for everyone in the Yarra Valley, with main steet stalwarts like De Bortoli, Yering Station and Rochford, to new boutique favourites like Mandala and Maddens Rise.
Or visitors can alternatively tuck themselves away among the towering gumtree forests of the Yarra Ranges, where they can dine on fine sophisticated foods in restaurants that offer panoramic views of the city.
Grape vines grow abundantly in the year-round cool climate of the Dandenong Ranges, and critics often regard these wines as some of the most outstanding in the country.
Discover and explore this delightful region only an hour's drive from Melbourne.