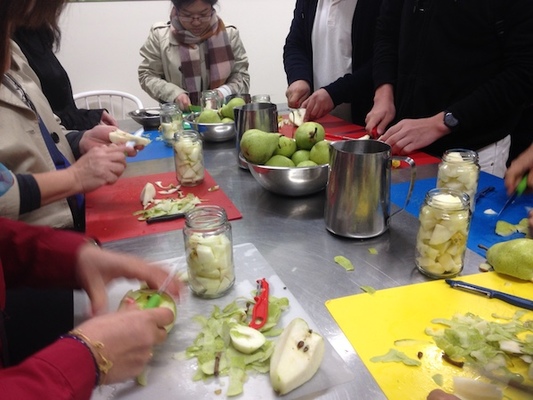 Rayners Orchard started fruit bottling workshops in the summer of 2010.
It was something the Woori Yallock farm had always done to preserve its own fruit, owner Len Rayner said.
"We already live in a world where we struggle to sustain enough non-genetically modified food and we also have to contend with the problem of so much waste," he said.
"So essentially it makes sense, and it became an opportunity to be able to educate people on how to make their fruit last longer, especially since fresh Australian fruit is seasonal."
Len said summer time was Rayners' favourite time to bottle fruits as it had plums, peaches, pears, nectarines, grapes, cherries and kiwi available at the ready.
"We have had such a great response to the workshops, especially as people become more aware of what is good for both their own personal health, and also the health of the environment," he said.
"Bottling is an olden-day art form which is making a fantastic return and we love being able to teach people in a hands-on kitchen environment and it is a fantastic activity for all the family, the kids especially love it."
Staff guide participants in the fruit bottling workshops.
They can bottle their own unique fruit combination or fill some bottles with traditional fruit flavours.
Rayners bottles using Fowlers Vacola equipment and also stocks preserving kits, food dehydrators and other bottling equipment in its shop for purchase.
Rayners Orchard is at 60 Schoolhouse Road, Woori Yallock and can be reached on 5964 7654 or len@raynersorchard.com.au.