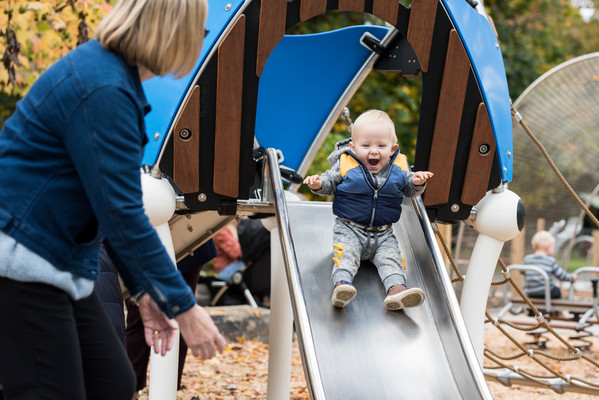 1. Queens Park
The revamped play space in Queens Park has equipment for younger and older children, including swings, double flying foxes, a sandpit, nature play area, balancing logs, an accessible spinner plus everything else found in a typical playground.
The park is near the roll play bike park where children can practice their skills on a specially-made track.
The park also features a new sculpture highlighting the nests of local birds and is the perfect place for a family picnic and hours of play, all just a short walk from the main shopping area in town.
2. Art
The Yarra Valley is a hub for the arts and Healesville is home to The Memo, which displays the work of local and nationally-renowned artists.
Nearby is the TarraWarra Museum of Art, which will feature paintings from this year's Archibald Prize from 14 September and many other exhibitions over spring.
The newly opened YAVA Gallery and Arts Hub in the heart of Healesville regularly features free exhibitions and events for the public.
3. Bed and breakfast
Visitors planning on spending the night in Healesville should make sure they check out one of the many bed and breakfast options in and around town.
Whether it is through a short-term rental app or a hotel, visitors will have plenty of choice for spaces to kick back, relax and spend the night in the heart of the Yarra Valley.
4. Food
Healesville boasts a variety of cafes, bakeries and spots to grab a quick cup of coffee.
The historic Healesville Grand Hotel is a great place to grab a bite or a drink and offers a place to stay right in the middle of the town.
Further down the Maroondah Highway is the Beechworth Bakery – a hotspot for locals and tourists looking to grab a tasty treat.
5. Yarra Valley Railway
The Yarra Valley Railway project operates tourist rail services on a Walker Railmotor from Healesville Station to Tarrawarra Estate, through a historic brick tunnel.
The Healesville Railway Station opened in 1888 and was used as an extension of the Lilydale train line prior to its closure in 1980.
Now the station is back up and running as a tourist railway line as part of Australia's largest volunteer infrastructure project.
The line runs from Healesville to Tarrawarra and soon visitors will be able to ride through to Yarra Glen.