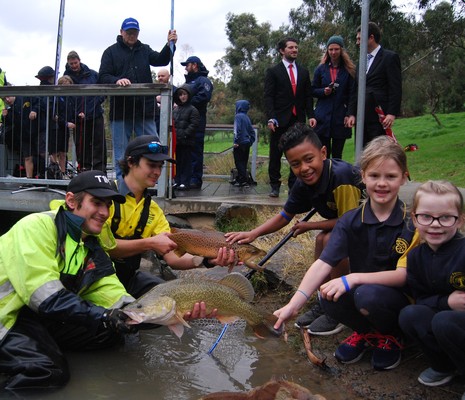 By Derek Schlennstedt
In a Victorian first, Quarry Lake in Ferntree Gully has been stocked with hundreds of rainbow trout, Murray cod and golden perch.
Over the past 10 years Knox Council has worked to rehabilitate the vegetation in the area to make it suitable for fishing.
Eastern Metropolitan Region MP Shaun Leane said the fish were all catchable size.
"An instant fishery is being created today so youngsters and families can come down, cast in a line and have a good chance at landing a fish," he said.
"The Knox Shire and local angling clubs are to be congratulated on their hard work and should be proud of giving Ferntree Gully such a magnificent natural asset.
"This is all part of our plan to get more people fishing, more often and will mean families and die-hard anglers can get out and cast a line in more places across Victoria."
This was the third urban waterway in Melbourne to be stocked with catchable-size native fish this year,following in the footsteps of Karkarook Lake and Casey Fields Lake.
Australian bass fingerlings will also be released in December when they become seasonally available from the hatchery, though they will take three to four years to reach catchable size.
The stocking mix of trout and native fish will provide year-round fishing opportunities,with the cooler months better suited to trout and summertime better for native fish.
"The stocking of rainbow trout, golden perch and Murray cod over coming months should make Quarry Lake a destination of choice for local and regional fishers," Knox Mayor Jake Keogh said.