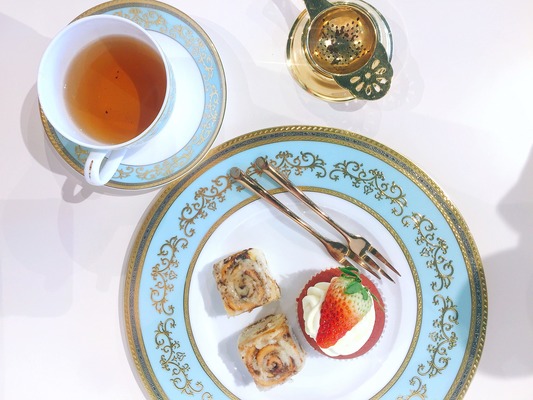 High tea is experiencing quite the comeback, and there are few places more picturesque than the Yarra Valley and Dandenong Ranges to sit down and enjoy it.
In the valley, Elmswood Estate in Seville serves seasonal petite fours, homemade scones and savoury bites with a modern twist against the uninterrupted views of the vineyard, valley and beyond.
High Tea on the Deck is available at 3pm on Saturdays and noon and 3pm on Sundays.
Each tiered high tea arrangement serves two people and the sittings are two hours long.
Bookings must be made a week in advance on 0455 997 888.
Elmswood also serves high tea as part of its flower crown workshops.
The three-hour foodie and floral experience is designed for brides-to-be and their tribes.
Guests create their own flower crowns with guidance from a florist, all while enjoying the views, high tea and a little sparkling.
Over in the Dandenongs, Puffing Billy has added the High Tea Express to its regular train services.
Visitors can enjoy high tea on the tracks in the train's historic first class dining carriages through a partnership with Montrose business Mary Eats Cake.
The high tea menu is delivered with a fresh modern twist while keeping to the old-fashioned traditions of vintage teaware and classic desserts.
Savoury items, fluffy scones and sweet treats prepared by a French-trained pastry chef are all on the menu.
All adult guests will also receive a complimentary glass of Yarra Valley Di Bortoli sparkling wine.
The whole experience includes a two-hour train journey and an hour-long stop at Emerald Lake Park.
The High Tea Express is running on 20 October, 17 November and 15 December, departing at 12.30pm.
Bookings are essential and can be made on 9757 0700.