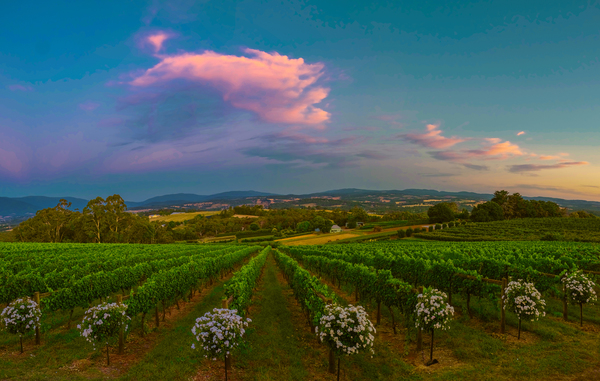 Elmswood Estate produces hand-crafted wines from the Seville sub-region in the Yarra Valley.
The boutique producer is celebrated by Australian wine critic James Halliday as a five-star winery and one of the region's 'dark horses', with chardonnay, pinot noir, syrah, merlot and cabernet sauvignon varieties.
The venue has a welcoming cellar door with stunning views and can cater to guests just wanting to relax through to hosting functions and wedding celebrations.
The Howe family bought the Elmswood Estate vineyard in 1997 when Vivian and Jack fell in love with its spectacular views.
Vivian's love for growing grapes and Jack's appreciation for wine found a perfect match in Elmswood's location in one of the most sought-after areas in the yarra for elegant, intensely-flavoured wine grapes.
In 2005, the original Elmswood Estate became available and was purchased, allowing the two properties to amalgamate into the current Elmswood Estate.
Following extensive renovations last year, the Howe family is excited to welcome visitors to share their love of wine and enjoy the spectacular views.
One of its newer offerings is high tea on the high deck, featuring a three-tiered birdcage filled with seasonal petite fours, homemade scones and savoury bites with a modern twist.
There are sessions on Saturdays at 3pm and Sundays at noon and 3pm and all bookings are required a week in advance.
Elmswood also offers a creative afternoon painting class with views and wine and a three-hour foodie and floral experience.
Elmswood Estate is at 75 Monbulk-Seville Road, Seville. Call 0455 997 888 or email jeannie@elmswoodestate.com.au.